The brides bouquet to me is literally the most important element to get right before we plan out the rest of the wedding flowers. It not only sets the tone of the decor for the wedding but is also the first thing the guests see when the bride walks down the aisle. Some brides come to me full of ideas and others need a bit more guidance, but we always get there in the end. There is so much to think about like, the style (wild and loose, rustic and so on) and most importantly the colours and yes which flowers to choose of course. I can literally spend hours going over it in consultations, but once we get the bouquet sorted everything else falls into place.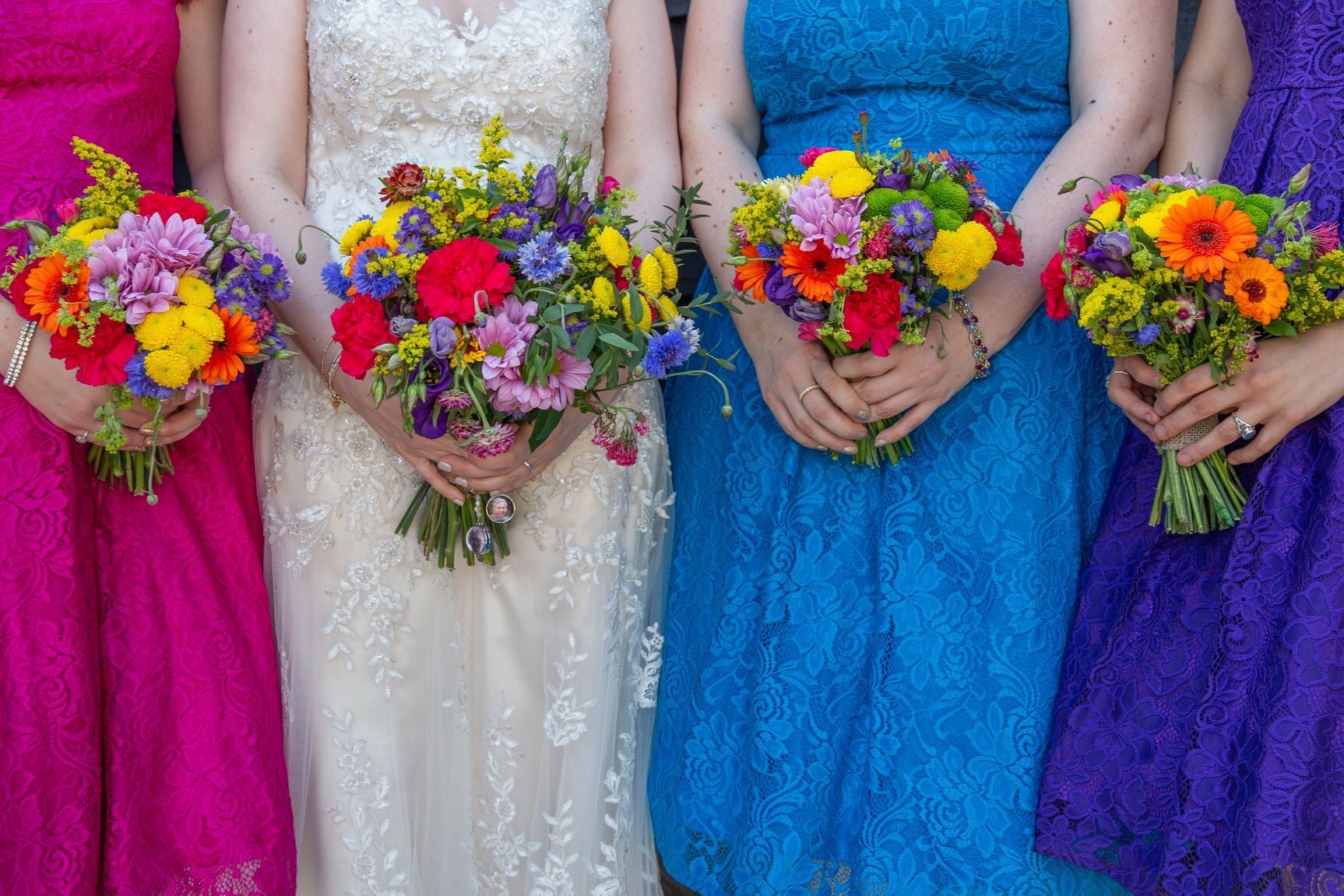 Over the years, I have created so many different style and colour combinations and here are a few of my fav's to give you a little inspiration for planning your day.
The "Give me a rainbow please" (photo above) From my first meeting with the bride and her Mother, it was all about colour. Every colour of the rainbow was the brief. This bouquet had it all and the whole scheme was created around the 3 bold and beautiful brides maids dresses. It just shows you with flowers there are no rules on colour and I just love how everything blended so perfectly in the end.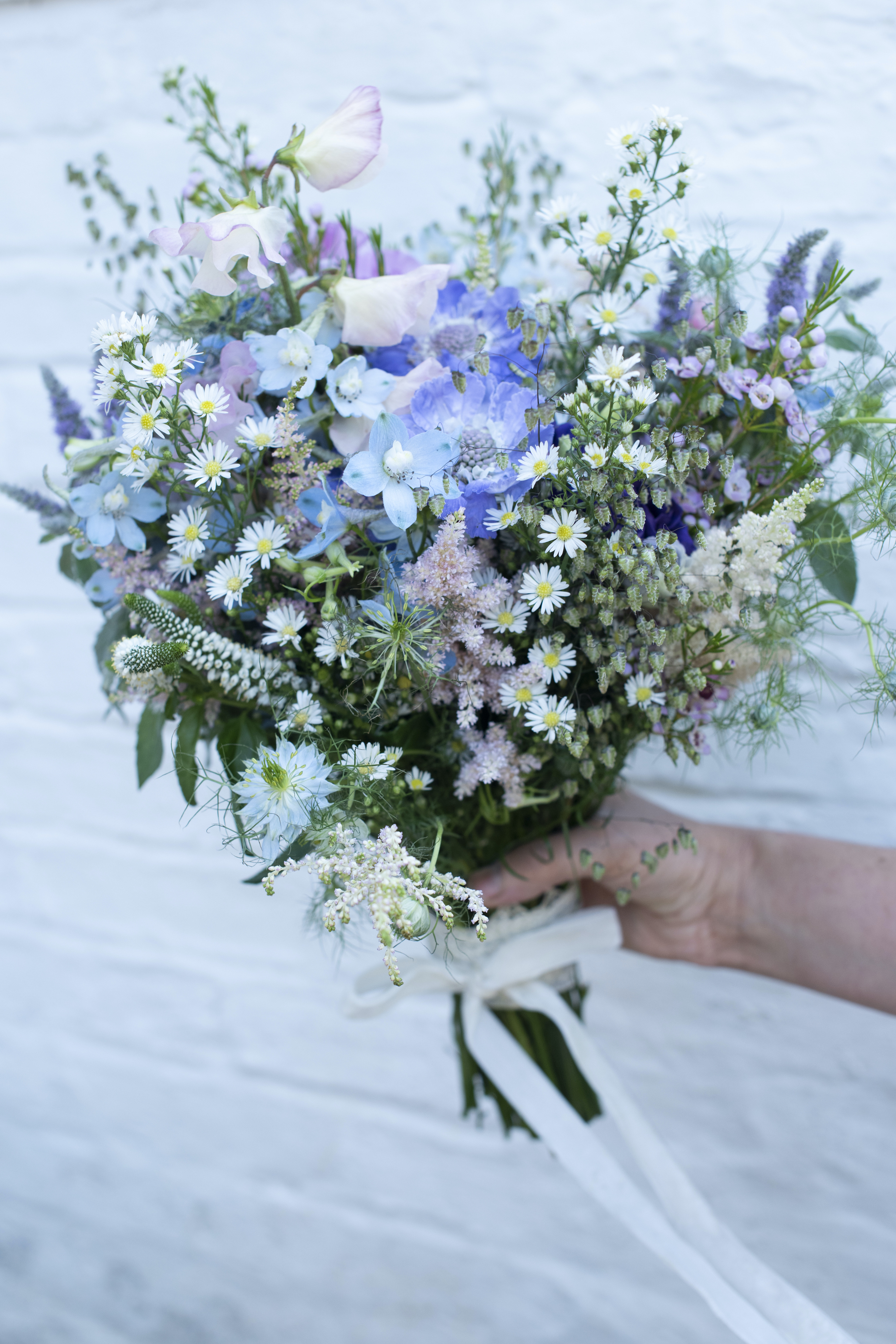 The wild meadow bouquet. This was one of my all time favourite bouquets to create as the style is something that was very much me, a relaxed country meadow feel was the brief and we used some gorgeous pastel nigellas, scabious, garden mints, little dainty asters and a mix of ornamental grassed to get the look. My favourite part of the bouquet though was the gorgeous home grown sweet peas that the brides father grew specially for the big day on his farm, they just tied the whole look together and the scent….On the wedding morning we added more then 300 stems of the freshly grown sweet peas to the other flower arrangements which tied everything together so beautifully and gave it that really home grown look.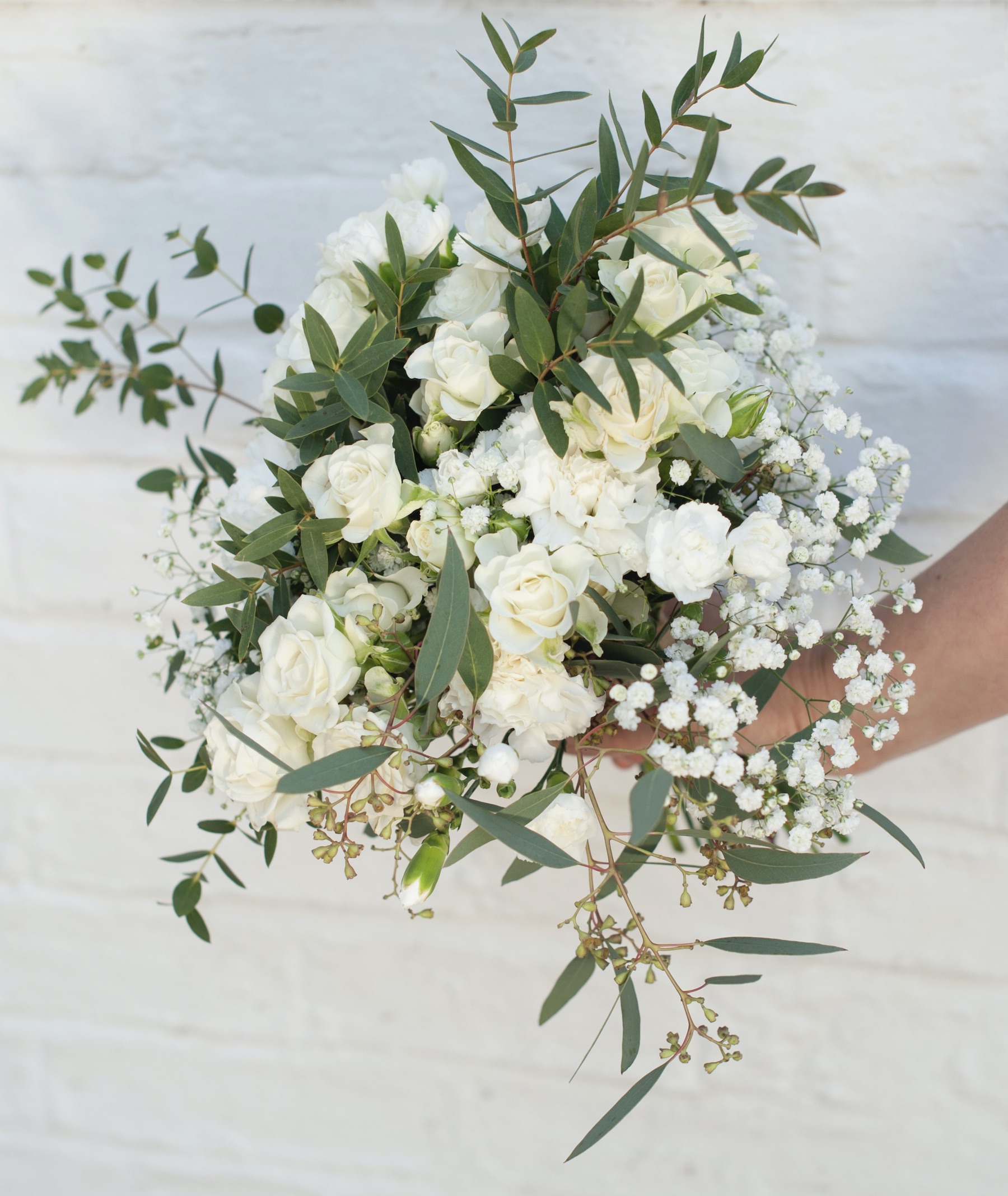 The classic white and green. I have been asked so many times what my favourite colour bouquet is and the classic timeless combination of white and green is still on top of my list. There is just something about the simplicity of it all that I just love so much. It is perfect for a rustic barn wedding or can be made a bit more glam for a chic Manor House do. This particular bouquet combined fluffy carnations (the brides favourite flower) and spray roses, with little hints of gypsophila and the ultimate in greenery the gorgeous silver tones eucalyptus.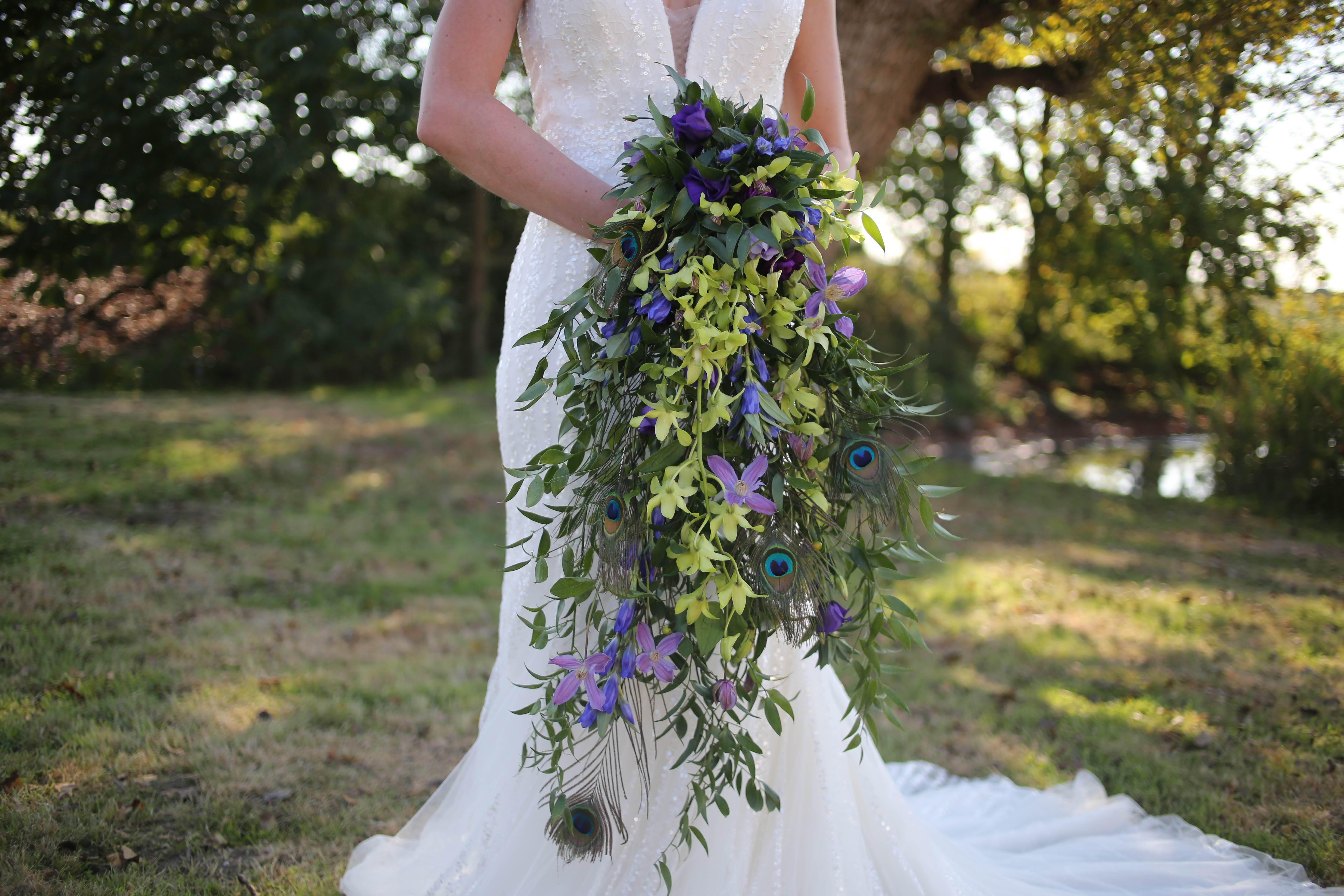 The Deco. When I was asked to do a 1920's shoot at Great Betley Farm House I was super excited as I just love the Art Deco style. The whole idea for the bouquet was inspired around peacock feathers and I wanted to create something really flowing and wild but also elegant with a little grandeur. I just love how it turned out and this is a gorgeous example that a cascading bouquet can be a little different and less traditional then the old fashioned tear drop ones we often see.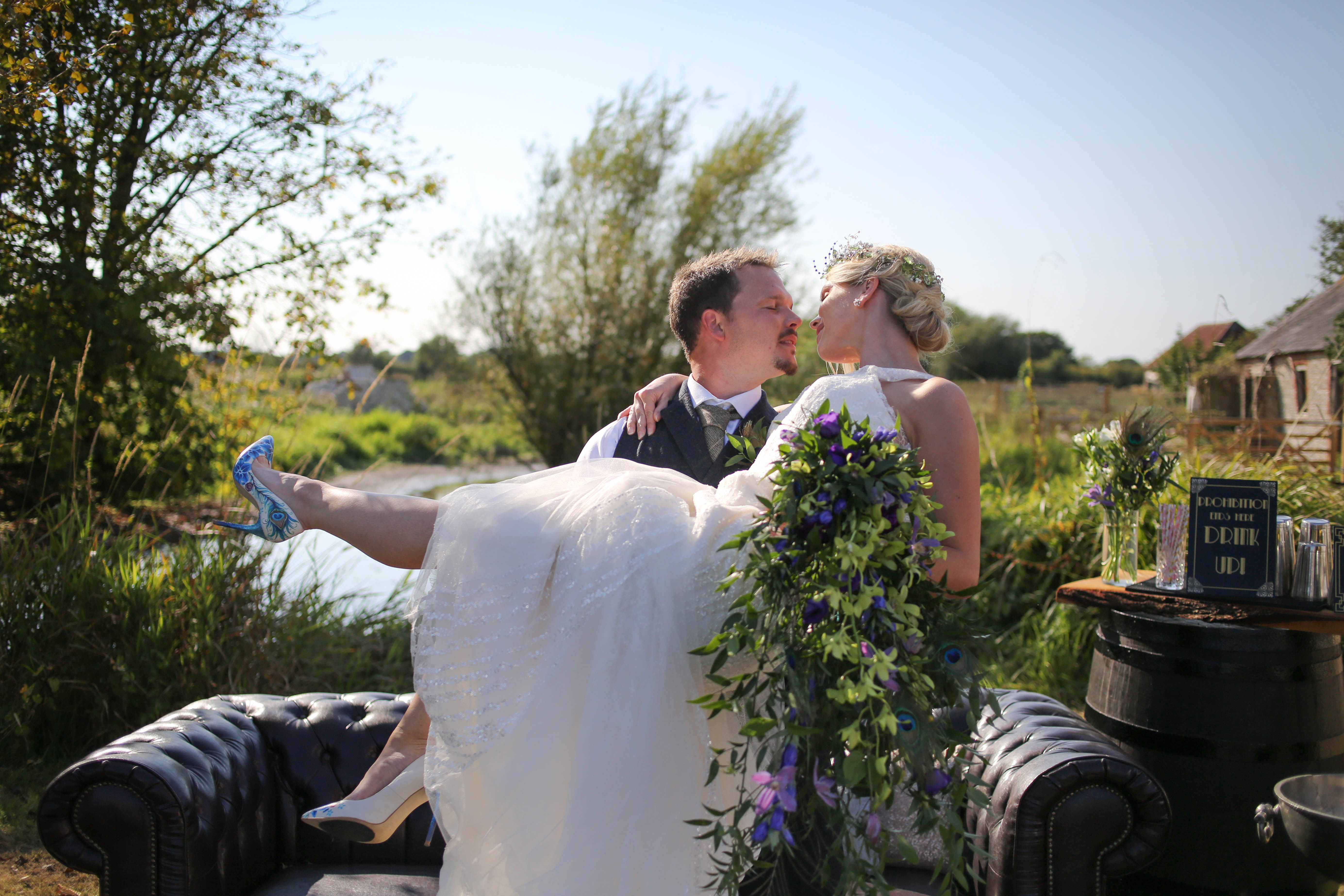 It has been a challenging time for weddings this year and can not believe how quickly it has all gone. Last year so many couples had to change their wedding plans and make the difficult decision to either downscale and go ahead or move dates to this year and even to 2022. One thing in my wedding planning that did not change though was that the bridal bouquet was still star of the show and I was lucky enough to create them for a handful of couples that were able to tie the not in 2020.
This year we are all literally crossing every finger for the days of large gatherings to return and I for one can not wait to create some stunning bouquets and wedding flowers for my lovely couples this summer. If you are planning a wedding in 2022 do get in touch soon and we can get planning your big day, it's going to be a busy one.
photo
credits www.gemmamount.com and www.nickikomorowskiphotography.com