Ever wonder why we hang Christmas Wreaths on our front door?
We have spent the last few days decking our house out for Christmas, being a florist there are garlands galore around the house and my very special Christmas wreath that I make every year, hung proudly on our front door. My youngest daughter ever so inquisitively asked "Mummy why do we hang wreaths on our door at Christmas" and I thought hmmm well they look nice, inviting etc.. we have just always done it, it is a tradition so I thought what a great idea for my first blog, which I have been meaning to start for ages. So we got looking

The word wreath is said to come from the old English word "writhen" meaning to twist, as in a circle or wheel. Wreaths have been around since the 16th Century and the Romans displayed them as a symbol of victory. It's circular shape represents eternity, for it has no beginning and no end.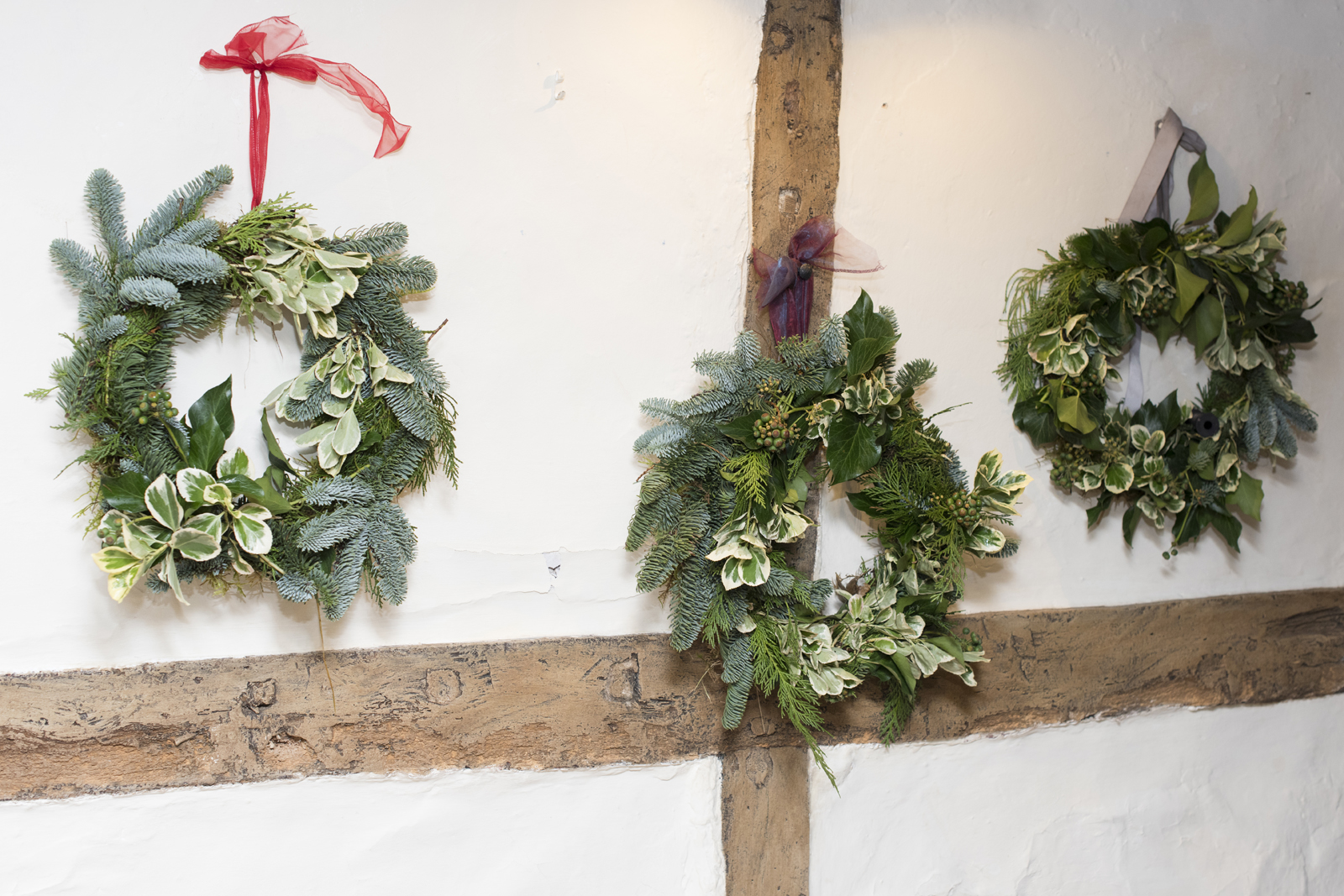 Traditionally, evergreens have been used to make wreathes. Since other foliages have died off during winter, evergreens still look their best, so they are the most obvious option to use, they are also long lasting and will stay fresh longer than most foliages. Just take a long around next time you are out walking and see what is growing around you. This morning I went on a gorgeous walk in the Sussex countryside and saw an abundance of foliages, gorgeous holly with it's jewel coloured berries, a huge assortment of ever green trees, conifers, yews, and ivy, lots and lots of ivy with it's gorgeous berries, beautiful shiny leaves of laurel, and an assortment of ferns and berries. Rich pickings to make a perfect wreath, growing just here on my door step.

Symbolically evergreen represent the continuity of life and nature. They remind people that spring and new growth will soon come and berries represent fertility. The wreath is also said to represent the wheel of the year, in recognition of the fact that the darkness and cold of winter will eventually fade away. Which is so lovely to think as the darkest day of the year is just around the corner.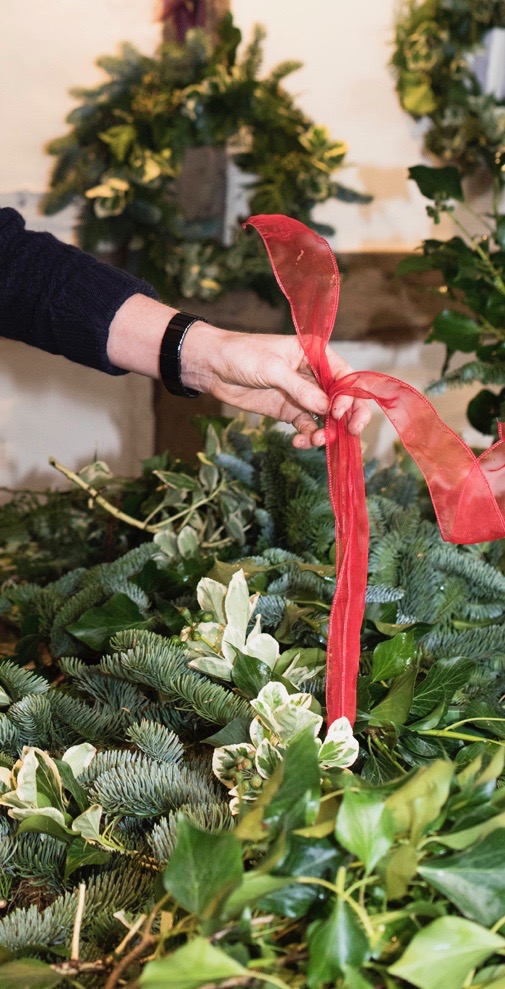 Later adopted by the Christian faith, wreaths are used to observe the Advent season. Hung on the door or a window, the wreath has been viewed as an invitation to the spirit of Christmas to enter the home and bring luck, suggesting as well that the Christmas spirit dwells within. I just love that, Christmas has such a magical feel to it, all the twinkling lights to brighten the cold and early evenings, bringing mother nature into the home when putting up your Christmas tree, hanging up your mistletoe and holly berries.
Now that is a mouthful to explain to my daughter but she actually found it all so interesting and it is so nice to understand the reason we do things and how traditions have evolved over the years to what they are today. I think pretty much every home now has a Christmas wreath hung up somewhere in their home, whether inside or hanging on the from door. It is nice to know it is there representing a little more then just a decorative ornament on your front door.
We have a gorgeous assortment of wreaths available to order on our online shop in various styles and sizes or if you fancy having a go at making your own we still have a couple of spaces left on our luxury wreath making workshops.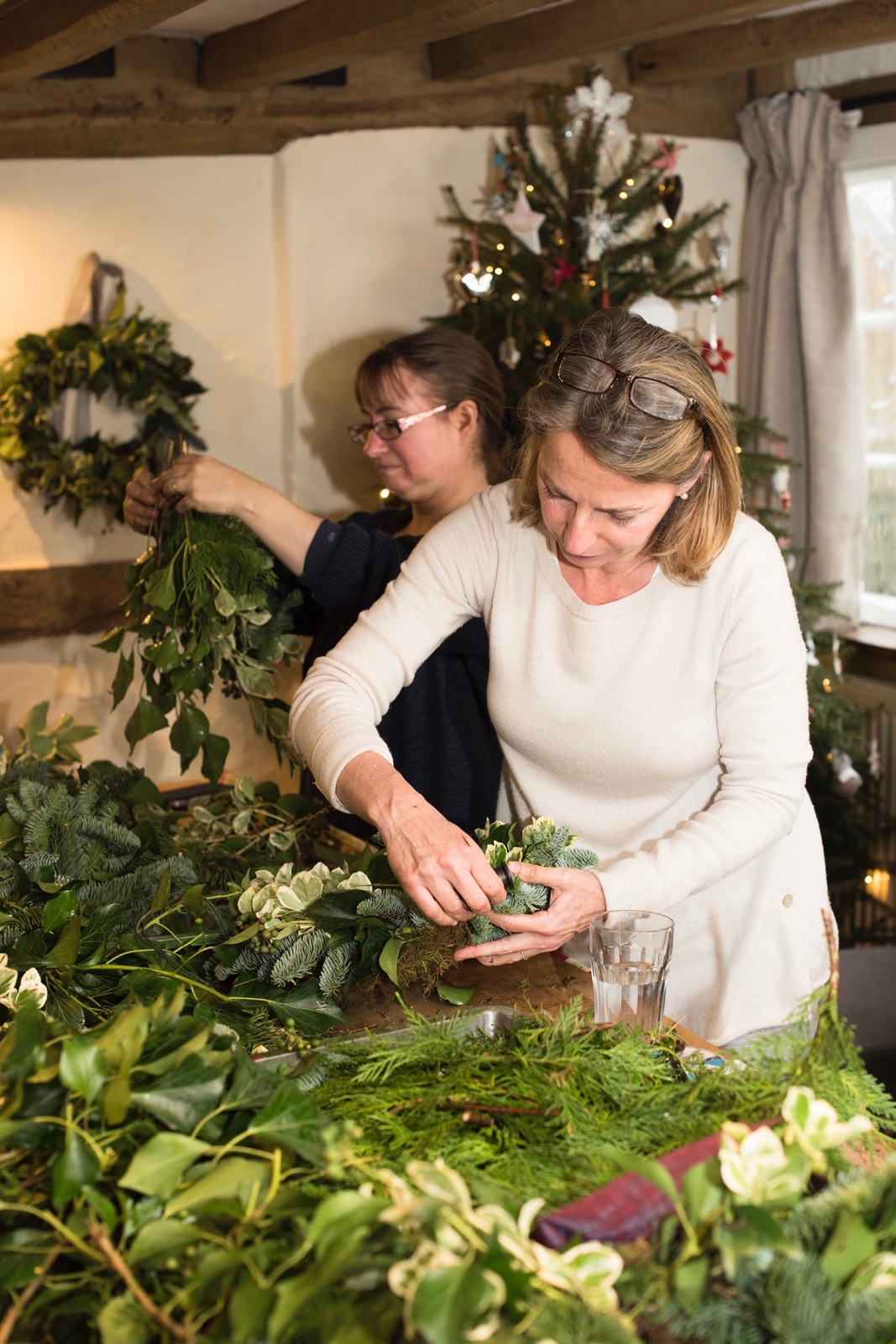 We can also tailor make wreaths in any size and style. So go on and hang that wreath on your front door and let beautiful spirit of Christmas in.

photos www.gemmahughesphotography.co.uk